What we do...
Our Unit provides intensive care for critically ill babies and children, who reside in (or are are visiting) Scotland, and who need highly invasive technical support and treatment following either an emergency admission or planned highly specialised surgery. Specialist services, such as ECLS, may attract admissions from outside of Scotland. We treat patients from birth up to the age of 16 years - but occasionally older than this if they remain in secondary education and are already under the care of paediatric medical personnel.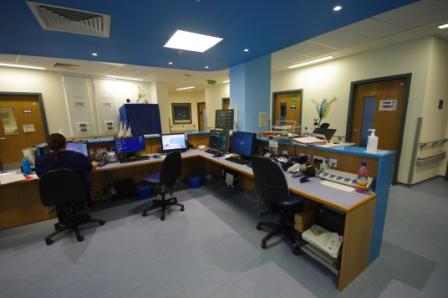 As was the case at Yorkhill, our service at the new Royal Hospital for Children site operates as an integrated Critical Care Unit (CCU)which provides both Intensive and High Dependency care. Care is delivered flexibly using all space interchangeably. All bed spaces are equipped to PICU bed specification and to provide intensive care during periods of high activity. This allows us to provide intensive care to above our commissioned bed capacity of 18. Intensive care patients are defined by the level of treatment they receive. Only Intensive Care activity (categorised as 'PICS Levels 2-4') is commissioned nationally by the NHS Scotland National Services Division. Level 1 care is funded by NHSGGC.
The majority of high dependency patients (categorised as 'PICS Level 1') are actually cared for elsewhere within the hospital in specialty ward areas which include renal, oncology, cardiac and respiratory/ long term ventilation Units. Intensive Care Unit medical personnel may be involved in offering advice and support to the teams in charge of these patients.
Neonatal patients that require intensive care support are managed within the adjacent Neonatal Intensive Care Unit (NICU). However, neonates with Congenital Heart Disease may be cared for on the Paediatric Intensive Care Unit pre-operatively, and are routinely cared for on the Unit post-operatively.
As well as the general intensive care of critically ill children, our Unit supports nationally designated paediatric services for Scotland in the following areas:
• Interventional Cardiology
• Cardiac Surgery
• Airway Surgery
• Renal Services
• Stem Cell Transplant
• Extra Corporeal Life Support (ECLS)
In addition, we also provide support to the West of Scotland Regional Neuro-Surgery programme.