Who are all the people taking care of my child?
Your child needs very specialised care. A number of people will be looking after your child:
The ECMO Team
ECMO consultants - PICU or NICU Consultants who in charge of your child's care & coordinating the ECMO team
ECMO surgeons - cardiac or general surgeons who operate to insert the ECMO cannulae (tubes) in your child
ECMO specialists - highly-trained nurses who care for your child and manage the ECMO circuit
Others who may be involved
Cardiologists
Other Intensive Care Doctors & Nurses
Perfusionists - see glossary
Physiotherapists
How is my child put on ECMO?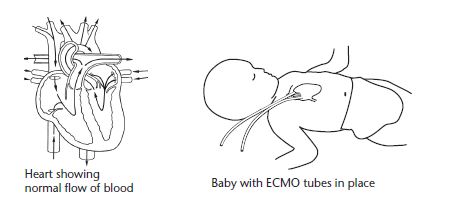 Your child will have an operation in the intensive care unit. During this operation the surgeon will put in tubes, called cannulae, that carry blood from your child to the ECMO circuit and back again. The ECMO staff will make sure your child is well sedated and free of pain during the operation.
A similar operation may be needed at the end of the ECMO run to remove the tubes.