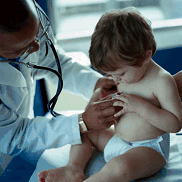 Cardiac Intensive Care
At any given time, an average of seven beds within PICU are dedicated to the care of patients with Congenital Cardiac Disease. RHC Glasgow is the sole provider of heart surgery and cardiac catheter interventional procedures for children in Scotland. A team of 7 cardiologists and 3 cardiac surgeons works in conjunction with Neonatology, Paediatric Anaesthesia, Paediatric Intensive Care Medicine to care for these babies and children from diagnosis, through their procedure to post-operative care.
The Royal Hospital for Children in Glasgow, along with the Scottish Adult Congenital Cardiac Service at the Golden Jubilee National Hospital in Clydebank is home to Scotland's national Congenital Cardiac Service. We run an integrated Congenital Cardiac service coordinated and commissioned by the National Services Division of NHS Scotland and we are one of 11 NHS Congenital Cardiac centres within the UK.

www.sccs.scot.nhs.uk

Our service includes all local units and practitioners in Scotland's other major cities. The Cardiology and Cardiac Surgical consultant team also provide an extensive peripheral clinic service throughout Scotland's other hospitals in addition to their work at Yorkhill.
The network deals with all aspects of the care of congenital cardiac patients from the antenatal period through to later years of life, aiming to balance local ongoing care with a high volume centralised surgical and interventional centre. RHSC serves a national population of 5.2 million with a birth rate of 58,000 each year. The incidence of Congenital Heart Disease is about 0.8 per 1000 births. This population generates an average of 320 heart surgery operations and around 180 cardiac catheter interventions in children at Yorkhill each year as monitored by National Institute for Cardiovacular Outcomes Research. The only area of care we do not support is heart and lung transplantation in congenital cardiac disease which is solely the remit of two of the United Kingdom's 12 other paediatric cardiac centres.
Congenital Cardiac Surgeons
Mr Mark Danton (paediatric and adult heart disease)
Mr Andrew D McLean (paediatric and adult heart disease)
Mr Ed Peng (paediatric and adult heart disease)
Congenital Paediatric Cardiologists
Dr Lindsey Hunter (paediatric cardiology and fetal cardiology)
Dr Maria Ilina (paediatric cardiology and echocardiography)
Dr Brodie Knight (paediatric cardiology and intervention)
Dr Karen Mcleod (paediatric cardiology and electrophysiology)
Dr Patrick Noonan (paediatric cardiology and intervention)
Dr Benjamin Smith (paediatric cardiology and intervention)
Dr Muhammad Walayat (paediatric and fetal cardiology) – Network Lead